量子通信是量子物理与信息科学的交叉学科,在实现信息的无条件安全传送、量子信息的操控、传递等方面具有重要的应用。课题组主要开展量子通信方面的实验和理论研究,针对量子通信的新原理、新方法进行探索和研究,并由此发展量子通信的相关新技术,研制相关原理型器件,推进量子通信的发展和实用化。近期的研究方向:连续变量量子保密通信;腔量子光力;光场量子态工程和操控。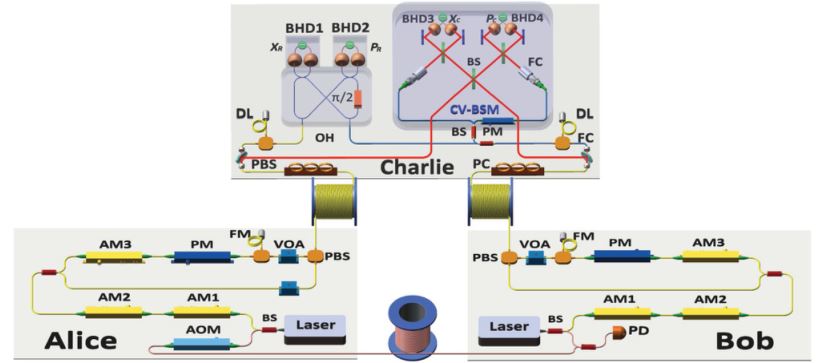 Experimental demonstration of continuous-variable measurement-device-independent quantum key distribution over optical fiber
---
Authors:Yan Tian, Pu Wang, Jianqiang Liu, Shanna Du, Wenyuan Liu, Zhenguo Lu, Xuyang Wang, and Yongmin Li
Measurement-device-independent quantum key distribution (MDI-QKD) can remove all side-channel attacks on detectors. In the context of the dramatic progress of discrete-variable MDI-QKD and twin-field QKD, owing to ...
Continuous variable quantum key distribution with a shared partially characterized entangled source
---
Authors:Shanna Du, Pu Wang, Jianqiang Liu, Yan Tian and Yongmin Li
Locking the sophisticated and expensive entanglement sources at the shared relay node is a promising choice for building a star-type quantum network with efficient use of quantum resources, where the involved parties only need to equip low-cost and simple homodyne detectors.
Photonics Research 11, 463 (2023)
Impact of Four-Wave-Mixing Noise from Dense Wavelength-Division-Multiplexing Systems on Entangled-State Continuous-Variable QKD
---
Authors:Shanna Du , Yan Tian, and Yongmin Li
We establish a theoretical model to characterize the excess noise in continuous-variable QKD induced by the four-wave mixing, and experimentally demonstrate the validity of the theoretical predictions.
Phys. Rev. Appl. 14, 024013 (2020)
Microfiber Mechanical Resonator for Optomechanics
---
Authors:Qiang Zhang, Ruili Zhai, Shiwei Yang, Shuai Yang, and Yongmin Li.
Optomechanics is a promising field with important applications in ultrasensitive sensing and quantum information processing. A variety of micromechanical resonators are proposed and demonstrated for....

ACS Photonics 7, 695 (2020)
High-Gain and Narrow-Bandwidth Optical Amplifier via Optomechanical Four-Wave Mixing
---
Authors:Zongyang Li, Zhenqiang Ren, Yongmin Li, Yong-chun Liu, and Kunchi Peng.
We present an ultrahigh gain, narrow bandwidth, and low noise optical amplifier via the radiation pressure induced by the four-wave mixing (FWM) effect based on a cavity optomechanical system in the....

Phys. Rev. Applied. 11, 064048 (2019)